My brother Abderrahmane Weddady exposed a gigantic Ponzi scheme in Mauritania back in January 2016. Imagine Bernie Madoff had the protection of the White House, and the White House itself was getting a cut of the scam's proceeds – that's what he uncovered. It's the biggest scandal in Mauritania's history, affecting over 7000 families. The twist? The scammer, dubbed "Sheikh Madoff", remains free and unbothered, under full protection from the President Mohamed Ould Abdelaziz, whilst my brother sits in jail for uncovering the scam.
Sheikh Madoff's victims have been demonstrating, begging for the State to help them recover the stolen money. They demonstrated at the scammer's home last night, with his police protection ever-present. But President Ould Abdelaziz refuses to have any of this investigated, and the courts refused to accept complaints from victims.
?? Mauritania: While my brother sits in jail for uncovering the Shaikh Rada's Ponzi scam – the biggest in Mauritania's history – affecting over 7000 families, the victims are pushing back. Last night at the scammer's home. President Aziz protects him still. #FreeWhistleBlowers pic.twitter.com/vTqjEgZbB5

— Weddady (@weddady) March 25, 2019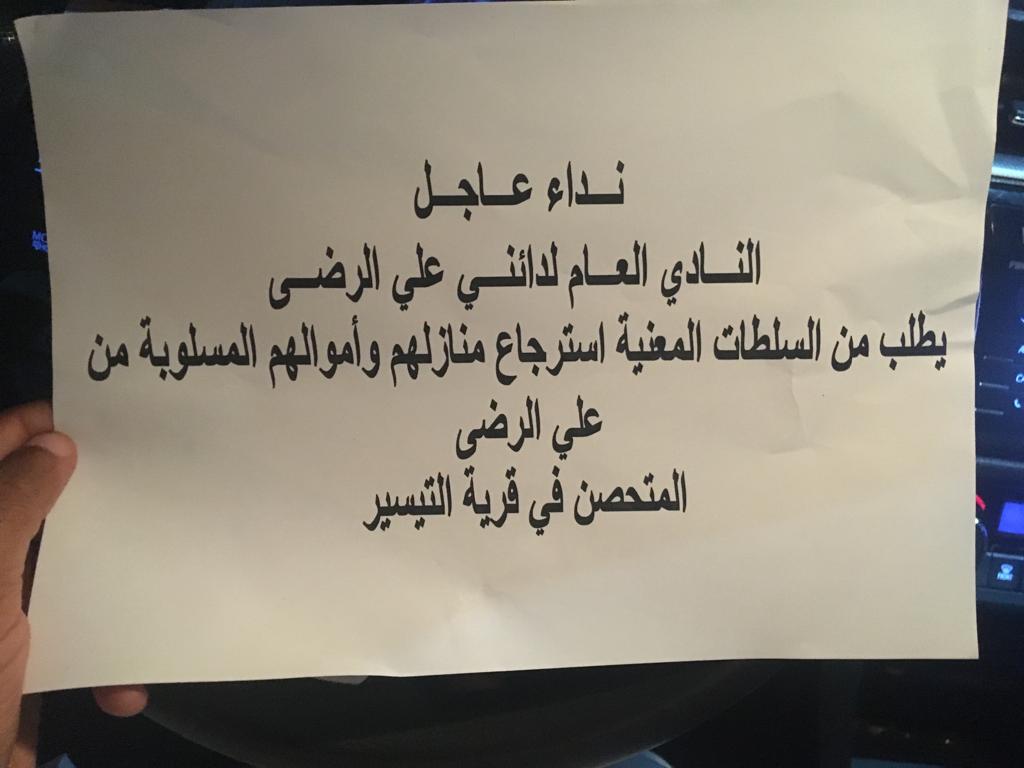 Police broke into my brother's apartment with no search warrant this week, seizing his computer after an hour of ransacking the place. Both men were subjected to 18-hour interrogations, and their families were prevented from seeing them – yesterday the investigative judge prosecuting them denied my sister-in-law permission to visit her husband.

Yesterday, in a mockery of justice, Abderrahmane and his co-detainee Cheikh Ould Jiddou were taken to the prosecutor's office and charged with "Slander" – which could carry years of jail time – under Section 348 of the Mauritanian legal code. The state prosecutor & investigative judge refused to show evidence for their charge to the lawyer representing them, Mohamed Moine, alleging it involves "state secrets." The lawyer described the process as "medieval", and states that his client is detained extra-judicially and the proceedings against them are illegal, due to the prosecution's insistence on "secret" evidence.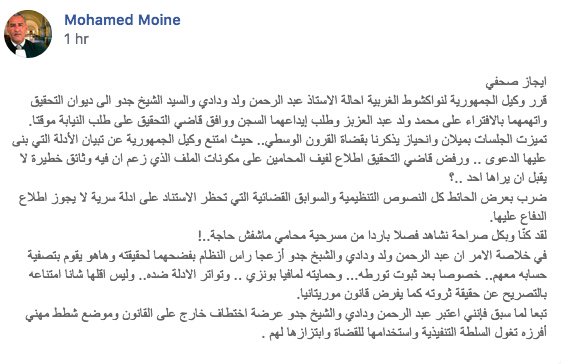 Nonetheless, the prosecutor still insists on not showing the evidence. The reason is simple: it does not exist. They are being held because President Ould Abdelaziz ordered it in retribution for exposing his involvement in the corruption scandal.
Abderrahmane and Cheikh were then transferred to the notorious Dar Naim prison in Nouakchott – the place you're sent to to be beaten up by for-hire violent convicts. Their treatment is similar to several previous cases of attacks on dissenters by the authorities – jail pending trial for trumped-up charges, for an arbitrary period lasting months or years, eventually ending in release on time served with no criminal conviction. Their treatment has been condemned as an outrage by the Committee to Protect Journalists, and both must be freed immediately.